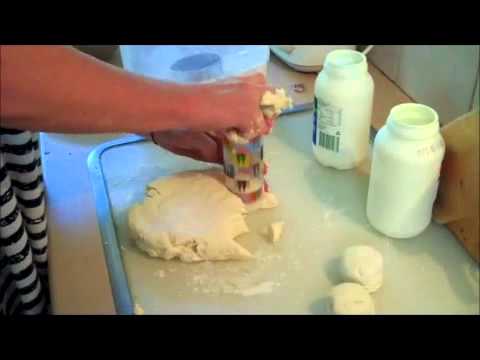 Janey's Friday Morning Scones For the Girls
Makes: 12
Prep time: under 4 minutes
Cooking time: around 10 minutes
Eating time: about 2 minutes! Or 10 minutes if you are behaving nicely.
Recipe
2 cups SR Flour
600 ml reduced cream
Guess what? Nothing else goes here!! Hard to believe there is no egg or milk but believe us, these scones are perfect.
Method
Preheat oven to 160 degrees.
Wash hands and take rings off.
In a large mixing bowl, dump the 2 cups of SR flour (no sifting required).
Make a well
Pour in 400 ml reduced (runny) cream
If it is a bit dry, put a bit of milk in your cream container, swizz it around and pour in.
(the advice above is contrary to what you hear on the video where Janey mixes up her instructions)
Bring it all together – don't overwork the dough
Bring the dough onto a bench top or board.
Roughly fashion it into a flat(ish) ball. About 3cm high.
Cut with a scone cutter or use a small glass.
Tip if using a glass for cutting:
-          dunk it regularly into the flour before cutting out a scone and always leave a tiny bit of air when cutting so it will be easier to get the scone out of the glass.
When you get to the end of the dough, work it back into a ball and do the same again.
Put them onto a floured tray and put them in the preheated oven on 160 degrees and they will rise around 50%.
Whip the leftover 200ml of cream for putting on the scones with some Roses raspberry jam.
In the background :: Bec, Olga, Suzy and Laura!